-News-
| | |
| --- | --- |
| By Prpl_Mage | posted: November 25, 2014, 06:20:10 PM |
News Update November 2014

Hey lads and lasses,

Let's sum up some of the latest happenings on the forum!

Home
Our good fellow Felix(The Judge) finished his amazing project Home, it's a fan sequel to the game OFF by MortisGhost and I just love the style it has.

http://www.charas-project.net/forum/index.php?topic=28833.0



_____________________________________________________________________________________________________

The 2013-2014 Charas Chain game
was completed thanks to the hard work of DragonBlaze, Momeka, Moosetroop, myself and Fisherson
Check it out!
http://www.charas-project.net/forum/index.php?topic=29032.0
Or check out the process with all the ups and downs!
http://www.charas-project.net/forum/index.php?topic=28725.705


_____________________________________________________________________________________________________

The Charas Game Club
Thanks to the inspiration of Momeka we all regained our creativity to create games for this neat contest!

http://www.charas-project.net/forum/index.php?topic=29007.0

Also a spooky Halloween edition
http://www.charas-project.net/forum/index.php?topic=29062.0
_____________________________________________________________________________________________________

Dota2 RPG
Prpl_Mage(that's me), released his overworked Crappy game contest project. With a mix of perfectionism and sillyness this game is sure to appeal to someone.

http://www.charas-project.net/forum/index.php?topic=29067.0



_____________________________________________________________________________________________________

Beginning of the End
Rahl's project of a survival horror gathering game is looking sweet and there's some great ideas in there. Be sure to check it out!



_____________________________________________________________________________________________________

Fisherson's Crazy forum RP
Remember the old days when the RP forum was crowded with all those RPs that made no sense and each post just made the whole thread look more crazy? Yeah it's back, be sure to join!

http://www.charas-project.net/forum/index.php?topic=29047.0
_____________________________________________________________________________________________________

Screenshot Central


An animated GIF from Momeka's spooky game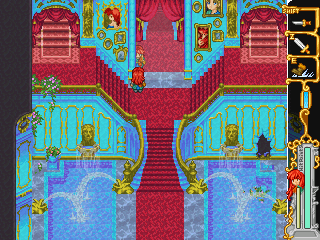 Just look at this amazing palace that Meiscool made for his project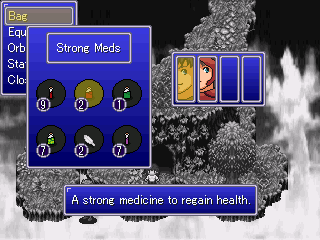 A picture of a custom menu system from AFL's Seven

Check out the thread if you are interested in more screenshots from projects.
http://www.charas-project.net/forum/index.php?topic=27493.405

4 comments
| | |
| --- | --- |
| By Alex | posted: February 05, 2014, 09:59:28 AM |
New Server - on Charas' Grandchild!

So, here we are.

Some of you probably followed the "impossible reports" we received from our previous hosting.
If you're interested in that part, details are here

They really pissed me off, so let's sum up a bit of things.

1) GoDaddy may be good for domain management, but definitively confirms to be the WORST COMPANY EVER about hosting.
So, after 6 years there, we're leaving

2) this is the interesting and nice part. Where are we now?
Someone may remember my main task is now on an Online Designer called the RealTimeDesigner (http://www.realtimedesigner.com).
I mentioned this in past because it's really thanks to Charas that now I do that.
Charas is old, but the concept was still the same: generating images online.

From my point of view, I can really call Charas the "Grandpa" of the RealTimeDesigner.
Now... For the RTD I have a big set of dedicated virtualization servers. As I had free space in one of those, I made a virtual server fully dedicated to Charas, and moved everything in there.
This means that, literally, Grandpa and Granchild are now living together in the same home.

Don't know about you, but this looks just RIGHT to me. It's just so nice!
And with this i hereby confirm that, no matter is we will reach ZERO hits, this place will survive. It's memory, history, headaches, joy, training.... everything together.
Not a single one of the "old" RPGMaker communities is still alive. We are, more than 10 years. An ETERNITY, thinking at the Internet.

So, GoodBye GoDaddy, you don't deserve a community of this quality.
And everyone, welcome in Grandchild RealTimeDesigner's home!!!
18 comments
| | |
| --- | --- |
| By Meiscool | posted: March 25, 2013, 03:11:54 PM |
Update

Not much has been going on here at charas, and that is saddening. However, big changes may be seen in the future!
Long time member DragonBlaze has returned (que fanfare) and is talking about what changes can/should be made to charas to expand it and improve it. View the topic here: http://www.charas-project.net/forum/index.php?topic=28672.0. With enough support, this place may thrive again, so I highly recommend you at least read through this and post your opinion.

New contests may be coming soon. If you have any ideas or opinions of what you'd like to see, post them here. At the moment, I would like to make this contest something having to do with the forum itself (IE, make something to improve the forum, and then a set of judges will comment on it and rank you). This might be ranged from making a tutorial to making something for the charas generator to creating a RP to making a successful forum game to posting a topic for your own game/art/etc. Be creative and helpful at the same time.

Ephiam has completed his most recent RPGM2003 game, and it can be seen here: http://www.charas-project.net/forum/index.php?topic=28385.0 . Thus far, good reviews have been seen for the game. If you enjoy playing retro styled games, give this a look.

This wouldn't be an update by myself if I didn't do a shameless plug of my own work. Godsent creation is going well, and you can view progress here: http://www.charas-project.net/forum/index.php?topic=28554.0. Need something to interest you? Watch this (with captions on):
Godsent Example 2

Have anything you want added here? Let me know.



4 comments